About
Neil Averitt was born in Washington, D.C., and raised in Denver, Colorado, where he was a skier, mountain hiker, and competitive marksman. He later attended Dartmouth College, Harvard College, the London School of Economics, and Harvard Law School, where he was Note Editor on the Law Review.  A formal resume can be found here.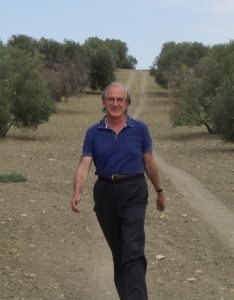 After graduating from law school he clerked for the federal judge in the U.S. Virgin Islands, assisting with the Fountain Valley murder trials, and then spent two years at the Boston law firm of Ropes & Gray.
For most of his professional career he practiced law at the Federal Trade Commission, helping to formulate policy on both antitrust and consumer protection issues. He has worked as advisor to one of the Commissioners, assistant to the Chairman, and as acting head of the antitrust planning staff on two occasions. He has written many articles on antitrust topics, and has contributed to the briefs in a number of Supreme Court litigations. He is presently a commentator for the periodical FTC:Watch.
Averitt also pursues issues relating to religion and spirituality. He has traveled frequently to Mount Athos, a monastic republic in northern Greece that dates from the Byzantine era. On the last of these trips he worked with an organization founded by Prince Charles that maintains the walking trails between the monasteries. In order to better access historical Christian material, he has studied biblical Greek at an institution run by the Dominican order.
His accounts of travels to religious destinations have been published in newspapers nationwide, including the Washington Post, the San Francisco Chronicle, and the Chicago Tribune. In other travels he has participated in bicycle treks across Iowa, France, Germany, Austria, and Hungary.
He has developed a proposal for a new kind of National Park. This would be a "frontier area" – an area of federal land managed so as to re-create a segment of the Nineteenth Century western frontier, with its mix of small towns and wilderness. Visitors could hike by day, and spend evenings in towns that have period architecture, but no cars or electricity.
Averitt is married to Kirstin Downey, who is also a writer. Downey, a long-time reporter at the Washington Post, has recently published biographies of Frances Perkins, FDR's Secretary of Labor, under the title of The Woman Behind the New Deal (Random House 2009), and of Queen Isabella of Spain, under the title of Isabella, The Warrior Queen (Random House 2014). Together they have five children.
Averitt divides his time between Washington, D.C. and Honolulu.